GPS (Global Positioning System) is the most popularly used technology to track a phone location. You must have used the maps app on your phone various times to find out where you are or where you are heading.
However, did you know that you can use GPS to track the location of someone else's phone as well? Yes, that's true. Tracking a phone through GPS is fairly easy.
This guide will teach you all there is to know about tracking a person's phone through the GPS service. You can use the method provided here for live tracking a person's phone at any time.
Part 1: What Do You Require for GPS Tracking on Android?
Tracking an Android phone through GPS requires the installation of a GPS tracking app on the phone itself. There are various apps you can use for the purpose, however very few of them provide secret location tracking.
Since what you want is to track the location of someone you care about, I assume you will require an app that can do it secretly. Therefore, you will need an account with such as app as well. You will learn about an app perfect for this purpose in the next section.
Part 2: How to Track a Phone Through GPS With Spyic
Spyic is the first choice for people looking to track an Android phone discreetly without rooting it. It provides phone tracking solutions so you can get the location of a phone at any time without the phone user knowing.
The best part is that Spyic follows a simple process to track a phone's location. There are no hard to follow steps, which make sure that anyone can do it with ease.
Here is the process to track an Android phone with GPS using Spyic:
Step 1: Create a Spyic Account
First things first, you need to create an account with Spyic. You can use your email address as the username and a password of your choice. These will be your login credentials for later logins.
After that, you will be redirected to the page where you can choose a plan based on the target device. Here you can get a subscription plan for Android devices. 
Step 2: Setup Spyic
Spyic does most of the setup process by itself so you do not have to worry about any technical aspects. Once you have created an account, you will be taken through the setup wizard. You can do the following:
Access the target device and go to 'Settings' > 'Lock Screen and Security'. Here you need to enable 'Allow installation of apps from unknown sources'.

Once this is done,  visit 'Settings' > 'Google' > 'Security' > 'Google Play Protect'. Click on the gear icon and disable 'Improve harmful app detection' and 'Scan device for security threats'.

Install the Spyic app on their phone from the link mentioned in the setup wizard. When you open the link, you can slide right on the button to download the app. Open the app once it downloads and click on the 'Install' button. The app installation will just take a few seconds.

Read the 'Privacy Policy & EULA' and accept it once you consent to it. Sign in with your Spyic login credentials (created in Step 1).

Allow any permission that is requested by the app. You can then choose to hide the app icon or reveal it. If you hide it, you can launch it again with a secret code. The app setup will finish after that.
Step 3: Track Their Phone
Once the app setup is finished, you are ready to track their phone location. You will get a message saying 'Installation Completed' on the web browser through which you are configuring Spyic. You can click on the 'Start' button to begin.
It might take about five minutes for Spyic to sync all the data logs for the first time. After that, you gain access to your dashboard from where you can use all the features of Spyic. In order to refresh the data, you have the 'Refresh' button on the top left corner of the dashboard.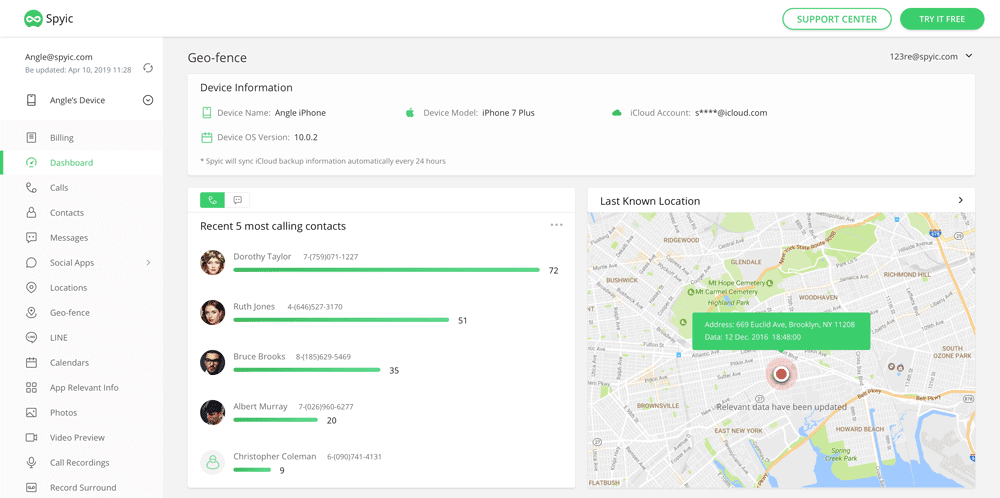 These are a couple of the many things that you can do with Spyic in terms of GPS location tracking:
Live Location Tracker:
Live location tracker shows the current location of the phone 24×7. You can also learn about their recent locations along with the timestamps.
Geofencing:
With Geofencing you can set location boundaries on a Google Map. If their phone crosses these boundaries, you get alerted.
You can try Spyic's free live demo to see how you can track a phone location of their device. There is no need to create a Spyic account or install any app to use the demo.
Part 3: How Spyic's GPS Location Tracking Works?
Tracking a phone location through Spyic can be done in complete privacy and secrecy. The person you are tracking will not learn that you are keeping a tab on their location unless you tell them yourself.
This is because Spyic's app is designed to be completely hidden even when it is installed on the target phone. The app size is less than 3 MB in size and it only takes a few seconds to install it.
Once the app is installed, the app icon will vanish from the app menu of their phone. It runs in the background without consuming any battery or resources.
Even if you feel like uninstalling Spyic from their phone at any point in the future, you can do it without even touching their phone.
Endnotes
Tracking a phone through its GPS is something anyone can do. The important thing to decide is to choose the right app for the purpose, since all Android phones require the app to be installed on the phone itself for tracking it.