Have you been searching for a phone spying solution that works without touching the phone? Don't worry, you are not alone. Every day we get countless queries regarding the same, with people wanting to know if there is a working phone spying method.
I thought why not help everyone once and for all, by writing the ultimate guide to spy on a cell phone without having it.
Spying on a cell phone is not only possible but, in fact, quite easy. This guide will guide you through all the ins and outs of the process. You will know everything you need to know and how you have to do it.
Therefore, without any further ado, let's dive into this simple and easy way to hack a cell phone secretly without touching it. I promise you that you will be thanking me by the end of this article.
Part 1: Is it possible to spy cell phone without accessing the target phone?
If you are wondering how to spy on a cell phone without having it, here's the answer. Yes, it is absolutely possible to spy cell phone without access the target on an iPhone. Without installing any software on the target iPhone, you can view almost all of the target's iPhone's data using Spyic app.
There is also no need for jailbreaking the target device. What you do require to perform this app is the iCloud credentials of the target phone.
What about an Android device?
For an Android phone, the answer is no. You cannot track someone's Android phone without installing software on the phone first! It is absolutely impossible.
To track someone's Android phone you must install a tracking app or software into the target Android phone. For installing the app you require physical access to that Android phone. But don't worry, the installation process is very easy and fast.
No technology has been invented till date using which you can track any Android phone without installing software. Hence, if any app claims so it is not trustworthy at all and should ring alarm bells!
Spyic is the easiest to use, accurate, and reliable app using which you can track someone's cell phone online.
It has been featured in many big media outlets, such as Forbes, Techradar, PC World, Techcrunch, etc. Further, it is also popular and trusted by millions of users globally.
On both iOS and Android, using Spyic, you can get real-time insights into the cell phone apps, text messages(iMessages), contacts, photos, call logs, social apps, and location. To check these features in detail, you can click the below live demo button.
Part 2: How to Spy on a Cell Phone Without Having It (For iOS)
Spyic can be used to spy on and check the activities of any target person including growing kids and employees.
Amazingly, with the help of this app, you can check any iOS target device completely without touching the target device.
How can I spy on a cell phone without installing software on the target phone?
Spyic provides both Android and iOS apps. In this section, we will see how you can use the Spyic iOS solution to remotely spy on someone's iPhone. It is important to remember that you do not need to install anything on the target device to use the app.
You will have to follow the following steps to monitor an iPhone without having to access the phone you are spying on.
Step 1: Create a Spyic account. This can be easily done on the official Spyic website in a few seconds.
Step 2: Now, you can simply select the device type and enter its iCloud credentials. That's it! No need to access the target device physically or install anything. It will take some time for the app to sync.
Step 3: Log in to your account on your Control Panel. You will now see your dashboard.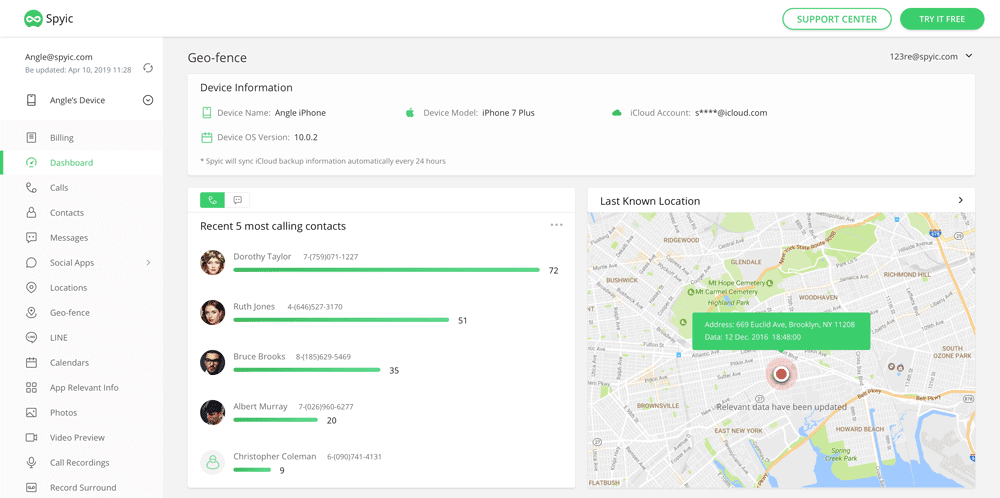 That's all you need to do! You can start now to spy on the cell phone without accessing the phone. You will find all details like text details, call details, media, installed apps, and chat details on the dashboard of your control panel.
What you can get via Spyic
Let us get to know the various features of the Spyic app in more detail. You can see the following data on the target phone by using the Spyic iOS solution:
Call history: You can view who the target person has been calling using Spyic. All details about both incoming and outgoing calls can be seen.
Contact directory: It is also possible to see all popular contacts and know who it is that the target is interacting with.
Browser history: You can see all the websites accessed on the target phone using Spyic app.
Deleted/ present Text messages and iMessages: It is also possible to read all iMessages including the deleted ones using the app. You can also see the media files that are exchanged.
Notes: You can know about the notes stored on the iOS device. This is a great place to see personal notes being jotted down by the target.
Location: You can also see the location of the target device using Spyic. All GPS locations are time-stamped as well.
WhatsApp: You can spy on WhatsApp messages using Spyic. All conversations and chats can be seen using the app.
LINE messages: If the target uses the popular messaging app LINE, Spyic can reveal all conversations there as well.
Instagram spy: You can also see the direct messages shared on Instagram.
Facebook monitoring: It is possible to remotely see Facebook messages on the target device.
Snapchat spy: You will also be able to see Snapchat conversations and photos using the Spyic app.
Part 3: How to remotely spy on someone's cell phone (For Android)
What if the target device is an Android phone? You will most definitely need to install an app. Spyic is one of the most trustworthy and lightweight apps. It will be quickly installed on the phone and takes up less than 2M of space. What's more, it is easily uninstalled remotely.
There are several spy apps for Android but most of them require you to root the device. This can make the process complex and also adds to the time it takes to get things ready. Spyic does not require you to root the target device at all!
By using the Spyic Android solution, you can invisibly and remotely access the activities of the targeted Android phone once the app is installed.
3.1 How Spyic works to spy on a cell phone secretly
You might be worrying if the target user finds out you're spying on him. This is really not a cause of concern as the app works in stealth mode. The app will automatically delete its icon after installation. It will then secretly work in the background.
Spyic has also been designed to consume minimal battery on the target device. You can remotely uninstall the app whenever you want to stop the monitoring of that person. All it takes is just a click!
You may like: Top 10 Best Free Hidden Spy Apps For Android Undetectable
3.2 How to Install The Spyic Android App
Let us see the steps you will need to follow to install the Spyic app on the target Android device.
Step 1: Create a free Spyic account. You can register on the Spyic website.
Purchase the app and proceed to the Spyic sign-in page and fill in all the required credentials.
Step 2:  You will now need to download Spyic's mini Android app. Give the app all the permissions that it needs to function correctly. You can follow the installation guide here.
Step 3: After installing the app, you can monitor the target phone remotely on your preferred display unit.
3.3 Cell Phone Spy Bonus: Android Keylogger
This is another wonderful feature of the Spyic app. Keylogger is nothing but simply an app that tracks all the taps and also maintains detailed logs of the keyboard.
The Spyic Android app has a keylogger which is an extraordinary tool by which you can capture the usernames and passwords of all accounts. You will also be able to access any account easily. You can find the 'Keylogger' section when you log on into the Control Panel.
Also Read: How to Spy on Someone's Phone Without Them Knowing
Conclusion
Wish to spy on someone's phone without having it?  Among the many apps available, Spyic stands out with its unique features. There are versions for both iOS and Android target phones. On an iOS device, there is no need to install the app on the device. You do not need physical access to the phone at all!
This post is also available in: Español (Spanish) Deutsch (German)