Did you just get your kid their first phone and now you are worried for them? The threat of online predators has been increasing lately.
You don't know who is lurking in your child's Facebook friend list or on his Instagram followers. You have no idea about the people they talk to. And maybe this is keeping you up at night.
Don't worry. I got you covered. If you wonder 'how to track my child's phone without them knowing?'I have a guide that will help you do the same. You don't even need any technical knowledge for it.
Part 1: How to Track My Child's Phone Without Them Knowing
If you follow my guide, tracking your child's phone will be easy. Plus, they will never even find out that they are being monitored.
You might think that is hardly possible. However, this guide comes from my own experience.
You might not believe what I tell you. Therefore, try this method for yourself and you will be surprised at the result.
1.1 Spyic – The Best Thing Since Sliced Bread
Spyic is one of the best cell phone tracking app that will help you in tracking your child's phone very conveniently. You can not only access the location of the phone, but you can also make use of tons of other features. These include:
Keylogger
Keylogger keeps a track of everything your child has typed on this phone. When I say 'everything', I mean it. This even includes the chats as well as the login credentials for social media apps.
Social Media Monitor
Spyic has inbuilt modules for tracking the social media activity of the target device. This includes all apps like Whatsapp, Facebook, Snapchat, LINE, and so much more.
Geo Fencing
You can set the geographical perimeters for the target device. When the device crosses these boundaries, you will be sent an alert. This makes sure that your child doesn't wander away from school.
Browser History
You can even view your child's browser history through Spyic. You can learn about the sites they're visiting. You can even create restrictions to specific websites.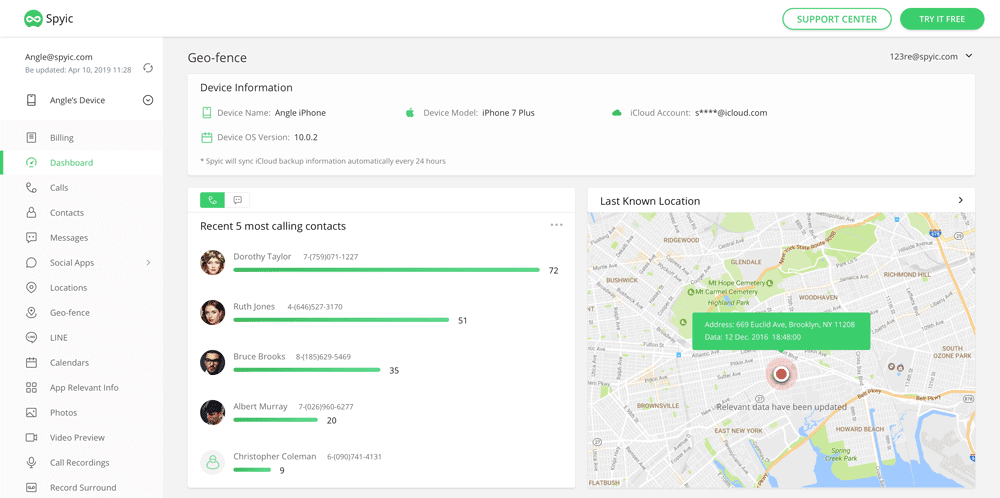 This is only a glimpse of all that Spyic has to offer. To watch Spyic in action completely free, try this free demo here.
Your Kids Won't Even Know You Are Monitoring Them!
Spyic monitors your child's device without them even knowing about it. You might find it surprising, but here is how it works:
a.) For Android target device
The app icon can be completely hidden after installation. You child will never find the app icon in the list of his installed apps. Therefore, you have nothing to worry there. Only you can open it by dialing a secret code.
You don't have to access your child's phone if you wish to uninstall the application. You can do it remotely through your Spyic dashboard. All you have to do is a single click!
The app works quietly. There are no notifications on the target phone. Additionally, it doesn't even drain any battery. Your kids won't notice any difference at all!
The app size is so small that your child won't even know it is taking any space. It is less than 2 MB.
b.) For iOS target device
For iOS, Spyic works through the iCloud feature. Therefore, there is no need for installing any apps. Not even one!
Since you aren't even touching your child's phone, let alone installing any app on it, your child will never actually know you are monitoring him.
How to Track Your Child's Phone
With Spyic, you can follow these simple steps and track your child's phone whenever you want.
Sign up for Spyic and get a subscription. I'd suggest opting for yearly plans since it offers more savings and avoids regular renewals.
Follow the setup guide to prepare Spyic for monitoring. The steps are different for Android and iOS.
a.) For Android, install Spyic from the link provided in the wizard.b.) For iOS, you only need to verify the iCloud credentials of the target device. You don't even need to have the device physically.
Once it's done, the system will take a few minutes to verify and download the data. You can then start monitoring your child's phone through the dashboard.
Using Spyic Dashboard to Access Child's Location
Once your Spyic dashboard is ready, you can visit the location tab in the dashboard. This will allow you to check on the child's location live. You can even see the places he has visited recently.
Not only that, but it also gives you time stamps with locations. This makes sure that you have complete knowledge about where your child is at a given time.
Why Spyic and Nothing Else?
You might be wondering why you should Spyic at all and not some other software. Here is why:
Pricing
Spyic has the cheapest subscription plans in the market. And even so, it does not lack in features in any regard. In fact, you will find Spyic is loaded with all the features of a phone monitoring app and more.
Easy to use Dashboard
Spyic dashboard is created keeping your convenience in mind. All the features can be accessed very easily through the left panel.
No Technical Knowledge
Spyic has done all the hard work for you. You don't need to have any technical knowledge about phone tracking or phone monitoring. Just get Spyic and you are completely ready!
Web-Based Interface
You don't have to download any app to view the phone data. You can open the Spyic dashboard in any web browser in the world. All you need is an internet connection.
No Physical Access
You don't need the target device at all to monitor it. It can be far away and yet, you will have all the data on your screen. For iPhones, you don't even need the device during one-time setup.
Don't wait, sign up for Spyic now and make use of the limited time offer that they are offering.
To find more ways to track your child's location, continue reading…
Also Read: How to Track My Daughter's Phone Without Her Knowing
Part 2: How to Track My Child's iPhone Without Them Knowing
When you are monitoring your child's phone, your priority should be that they don't find out. Children can be clever creatures.
Therefore, you need to find ways to outsmart them. Well… you had to, but don't worry. I have done all the research for you.
Here is another way through which you can track your child's iPhone without your child even finding out about it.
2.1 Cocospy for iOS
While Apple has always followed a walled garden policy, smart minds in the world have found ways to penetrate it.
And the result – Cocospy. Cocospy is an iPhone monitoring software that you can use to track your child's iPhone.
To use Cocospy, you don't even need any physical access to the phone. You require their iCloud credentials and Cocospy will take care of the rest. Here is how it works:
iPhones come with Apple's inherent iCloud backup feature. This feature uploads all their data to their linked iCloud accounts.
Cocospy makes use of this data to extract all the information you will need to monitor your child. This data is then uploaded to your Cocospy account where you can monitor it with ease.
You don't have to do any of the hard work. All you need to do is sit back and relax while it works. All the information will be right in front of you in no time!
Don't just take my word for it. Watch Cocospy in action right now in this free live demo (No Software Installation!).
If you are convinced already, you can visit this link to sign up for Cocospy now.
You may like: How to Track A Phone Number: An Ultimate Guide
Part 3: How to Track My Kids' Phone for Free
If you feel you want to avoid a paid method to monitor your child's phone, don't worry. I even have a few free methods which you can use.
However, to use these methods, you will need to have some smartphone knowledge. These methods make use of the inherent features of your smartphone.
Also, you won't get access to additional features like social media monitor, keylogger, etc. through these methods.
Here is how to track a phone for free:
a.) For iPhone, you can use the 'Find my phone' feature that Apple has built into the device. You can enable it by going in settings> iCloud. You can scroll down and enable  'Find My Phone' and 'Send Last Location'.
Can't Miss: How to Track My Son's iPhone Without Him Knowing
b.) For Android, Google has a Google Timeline feature that you can use to track your child's location. To enable Google Timeline, you can go to the Maps application in your Android device
Here, you will find a hamburger icon. Click on it and a menu slides from the left. Select 'Your Timeline' Enable Location and Location History here.
Part 4: How To Avoid My Child Getting Cyberbullied
In today's day and age, it is common for kids to get cyberbullied on the internet. This can ruin them psychologically and some things can even scar them for life.
Therefore, every parent needs to know a few tips to stop their child from getting cyberbullied. Here I have listed five things that you can do as a parent to make sure it never happens:
Understand that the internet is a part of life now:
Some parents completely deny their child from using the internet just to make sure they are safe. This is the wrong strategy. This will encourage your children to use the internet in hiding.
Accept that the internet is a part of life in today's world. However, encourage them to socialize offline more than they socialize online.
You need to set up various rules for your kid when he is on the internet. These rules should include basic things like not talking to strangers, sharing about the people they interact with, etc.
Restricting Certain Websites:
You need to restrict some websites for the child which you feel could lead to cyberbullying. There are so many websites aimed for children to talk to strangers. You should always restrict your child's access to such places on the internet.
Teaching your Child to be respectful:
Making sure that your child doesn't get cyberbullied isn't enough. You also need to make sure that your child does not cyberbully anyone.
Teach him internet etiquette and how to respect everyone. Tell him what kind of behavior is acceptable and what is not.
You should always keep an eye on what your child is doing on the internet. It is better to do it without your child's knowledge.
This makes sure that you are being a responsible guardian for your child. You have to keep him safe, no matter what.
Luckily, Spyic comes with browser history monitor, website monitor, and application monitor. These tools help you to keep an eye on what your child does in the online world. You can even set restrictions through these tools.
And to answer the question we started with – 'how to track my child's phone without them knowing', the answer is simple. Spyic!
This post is also available in: Español (Spanish) Deutsch (German)