Wondering how to spy on your wife? Do you suspect your wife of cheating on you? If you wish to monitor the activities of your spouse and track them, there are several apps you can use.
In this article, we will see the use of two of the most secure and reliable phone monitoring apps: Spyic and Cocospy. These are counted amongst the best spy apps available today. In the fast-paced modern life, husband-wife relationships are very complex and infidelity is a big problem.
The use of a phone monitoring app can help keep a check on her activities online. In this article, we will discuss some easy ways to spy on your wife's phone without her knowledge by using the latest technology.
Part 1: How to Track My Wife's Phone Without Her Knowing
Do you think there's something strange about your wife's behavior of late? Does she seem to be hiding things from you? Do you think she's spending a lot of time on her cellphone in a mysterious way?
If the answers to all of the above questions are "yes", it's time to have a word with her. Be alert and speak your mind out. If, however, your spouse won't open up, try to delve deeper into the problem. There might be something troubling her.
If that bears no fruit, you can use a spy app to stay alert and begin tracking/spying on your wife's phone. Due to overworking and the work-related stresses in professional life or some new work responsibilities, such changes in relationships could be observed.
Hence, prior to jumping onto any conclusion, it is always advised to evaluate the facts thoroughly and logically. One of the ways to evaluate the suspected activities of your wife is to track her phone.
All activities on the phone including browsing activity, phone calls, GPS location, messages, and several others. We highly recommend that you use a phone monitoring app that works using stealth technology. This is because it is important to monitor activities without being detected.
1.1 Spyic's Solution
Spyic is a reliable and trusted name in the spy and monitoring apps space. Spyic is a very powerful monitoring app that can allow you to spy on your wife's phone. The best thing about the app is that it runs in the background using stealth technology. What does this mean?
Spyic comes in both Android and iOS variants. The great thing about the iOS solution is that you do not need to install anything at all on the target device. This means everything is done remotely. There is no need to jailbreak the target device as well.
In the case of the Android target phone, you will need to install the lightweight Spyic app. However, after installation, the app icon can be deleted. The app leaves no traces on the phone and will silently work in the background without being detected. This is the power of stealth.
You can choose to uninstall the app in just one click remotely as well. This can be done from your Control Panel. Using Spyic, you can spy on your wife's WhatsApp messages. You can see all incoming and outgoing messages. You can also see Snapchat photos and texts.
The great thing is that you will be able to see messages and photos even after they're deleted. You can access the call records and also see the direct messages sent on Instagram. Mobile phones are very personal and form a very important part of every person's life.
Consider checking out the Spyic live demo here. By tracking and accessing someone's mobile phone you can monitor their activities and location. You can check your wife's social media accounts and posts, image gallery, Whatsapp data, message list, and email accounts as well.
With the help of the Spyic solution, you can spy on and track her internal activities very closely. Spyic is a very advanced mobile tracker app by which you can track the location of your wife in real-time too.
1.2 How to Track My Wife's Phone GPS
There might be instances when you might like to track the GPS location of your wife. This is useful if you'd like to know where she's been and for how long. Spyic can provide you with the GPS coordinates of the place the target is located at.
You can also see the timestamps associated with each location. This allows one to see when the target has been to which place. It's a great feature indeed.
What's more, Spyic also has a great geofencing feature which is not found on many spy apps. It's not just the present time location, though. Spyic allows you to see both the present and past location information.
Spyic derives accurate location information from both the target's GPS and WiFi-based data.
1.3 How to Install and Use Spyic
It is super easy to use the Spyic app. There are both Android and iOS versions available. On the Android OS, you will need to install the Spyic app. On the other hand, the Spyic iOS solution needs no installation at all.
You need to follow the following guidelines to track and spy your wife's phone:
Step 1. First, create a Spyic account. It is a simple process and will only take a few minutes at the most.
Step 2. Secondly, if the target device is an iOS system, you need to fill in the Apple ID credentials of your wife's phone. That's all needed: there is no installation required. You do not even need physical access to the phone.
If the target device is Android, download and install the Spyic Android app.
Step 3. Log in to your account on the Control Panel. You will now see your dashboard.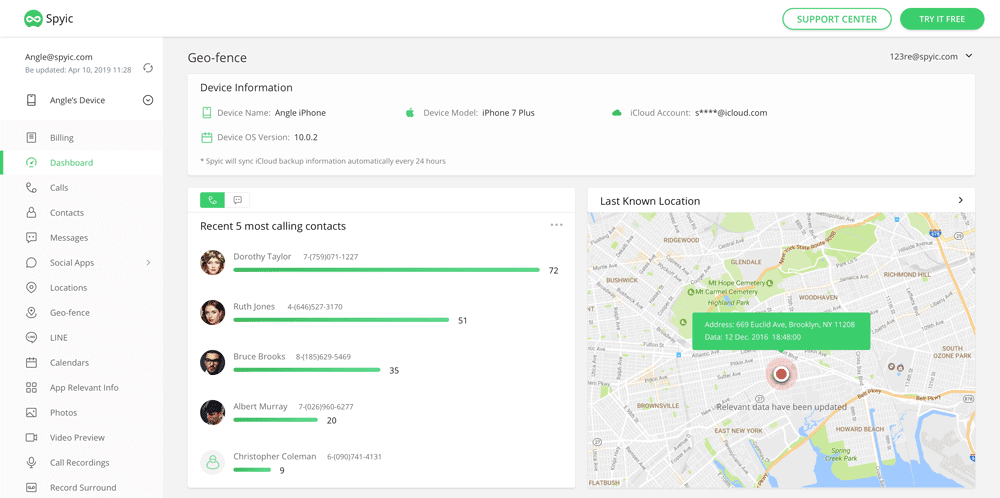 Step 4. Now you can start spying your wife. You can access and track all details like media, installed apps, text details, call details, and chat details on your dashboard. If you'd like to see Spyic in action, consider seeing the Spyic live demo here.
Part 2: How to Spy on Wife's Phone
We saw the various features and functions of the Spyic app in the previous section. In this section, we will know more about the Cocospy app. The app is an extremely powerful spy and monitoring solution. Why not see the app in action by looking at its demo?
Cocospy is trusted by millions of customers from more than 190 countries around the world. The app can help you spy on your wife's phone easily. Cocospy comes in both Android and iOS versions. It is a no rooting and jailbreaking solution.
You might have seen lots of spy apps but most of them will require you to either root the target Android phone or jailbreak iOS. This complicates the process and makes it difficult to install and use the app. Cocospy removes all hurdles out of the way and is extremely user-friendly.
2.1 Cocospy Features
Social Apps Monitoring: Spyic shows all messages and activities on the Facebook Messenger app of your wife's Facebook account. You can access the multimedia files too. Similarly, you can also checkout Whatsapp messages, Instagram DMs and Snapchat.
Call tracker: Husbands can spy and track call logs including incoming and outgoing calls on the phone of their spouse. You can notice the call duration and other details too.
SMS tracker: You can spy on and track all the SMS including the ones sent and received. Those wishing to spy on their wife could start with tracking SMS using Cocospy.
Location tracker: Cocospy will send you the location of your spouse along with the timestamps of GPS information.
Can't Miss: How to Spy on a Cell Phone Without Having It
2.2 Using Cocospy to Spy Wife's Phone
You can spy wife's phone in several ways using advanced tools and apps. We recommend the Cocospy app which is among the most reputed companies in this field. A large number of people use this app across the globe.
Cocospy is completely reliable and popular globally. It is very user-friendly and there is no need to root or jailbreak your wife's phone. It is completely secure and consumes approximately 2 MB space on the phone.
If you want to access your wife's email and social accounts the inbuilt keylogger can help you. You can get all passwords using it so you can log right in. Stealth technology is a unique feature of the Cocospy app.
When you monitor your wife's phone, you definitely want to do it secretly. Cocospy makes this very simple. The app icon will disappear once it is installed. The app will then run in the background.
Hence, Cocospy will keep sending you all the details discreetly about your spouse's activities. Just uninstall the app to discontinue the monitoring of your wife's phone. It is all just a click away! Cocospy also conserves the battery on your wife's phone.
2.3 Cocospy Android Keylogger
Android Keylogger is another wonderful feature provided with the Cocospy app. The keylogger is simply an advanced app which tracks all taps. Hence, with the use of the keylogger, you can monitor all keyboard presses on the target phone. The app maintains detailed logs.
The Cocospy keylogger automatically captures the usernames and passwords of all accounts. Undoubtedly, the Cocospy keylogger is an extremely powerful tool that helps you in getting to any account with ease.
You can find the 'Keylogger' section when you log into the Control Panel on Cocospy.
2.4 Steps to Use The Cocospy App to Spy Wife's Phone
The process always depends on the operating system of your wife's phone. You can use either the Android or iOS Cocospy versions accordingly. It is a very simple process and just takes 5 minutes to arrange everything and start spying! You can register for an account first.
The best thing is that for a target iPhone, there is no need to install any app on your wife's phone. You simply need to obtain her iCloud ID and password. Cocospy remotely takes care of everything.
If your wife uses an Android device, you will have to install the Cocospy app on her phone and follow all instructions. To work, properly give the app all the permissions it needs to work. The app is very lightweight and takes less than 2M of space.
Once done, simply log on to the Control Panel. Now, you can easily monitor your wife's activities by selecting suitable options on your left side.
You can now choose from amongst the options like 'Locations', 'Messages', 'Photos' or other options as per your choice to begin spying your spouse in real-time. If you wish to see the functioning of the Cocospy app, you can see the Cocospy live demo here.
Conclusion
Wish to spy wife? You can easily do so using the Spyic or the Cocospy apps. These are highly secure and powerful apps that are trusted by users globally and have been featured in the news. Neither rooting nor jailbreaking is required.
The apps are very user-friendly and simple to use. Best of all, they work discreetly!