A common question that is asked every time is how to hack someone's phone without having it? The answer is very simple indeed. Yes, if you have the knowledge about the right tool for this job! That way, you can easily monitor the activities of the target online.
In this article, we will explore some easy ways to do this using the best app for the task. There are so many reasons why someone would like to do this hacking activity. Maybe you want to check on your kids or the activities of your employees. Whatever the reason, here's how to do it!
Part 1: How to Remotely Hack Someone's Phone Without Touching It
It is advised to use a monitoring app like Spyic for this purpose. The latest smartphones are very secure. You cannot access the data on the phone by resetting the passcode. This will only delete all data. You need a spy app that can send you all the information discreetly.
It will not only make it easy but also provide you security and save your time and energy. Spyic features so many functions that it is indeed many worlds rolled into one. It is the one and the only app you will ever need for your remote phone monitoring endeavors.
Let us discuss more about the Spyic app and see how it will help you to hack someone's phone without having it.
 1.1. Why Use The Spyic App?
Searching for a reputed, reliable, and trusted phone-monitoring app? Your search ends at the most popular Spyic app. This app is highly recommended as it is used by millions of users across 190 countries. Further, it is featured regularly in the top media platforms.
Above all, the greatest benefit of using this app is that no rooting or jailbreaking is required. This is even when you monitor social media apps. Other spy apps will only let you do this once the phone is rooted. Spyic is different and uses cutting-edge technology for a root-free solution.
This greatly simplifies the installation process and removes all complications out of the equation. The other spy apps will only let you read call logs, contacts, GPS location, and other trivial data without rooting or jailbreaking first.
The app has versions for both Android and iOS. In case the target device is an iPhone, there is no need to install anything on the target device at all. The iOS solution is cloud-based and uses only the iCloud credentials. Use any browser of your choice to access the data remotely.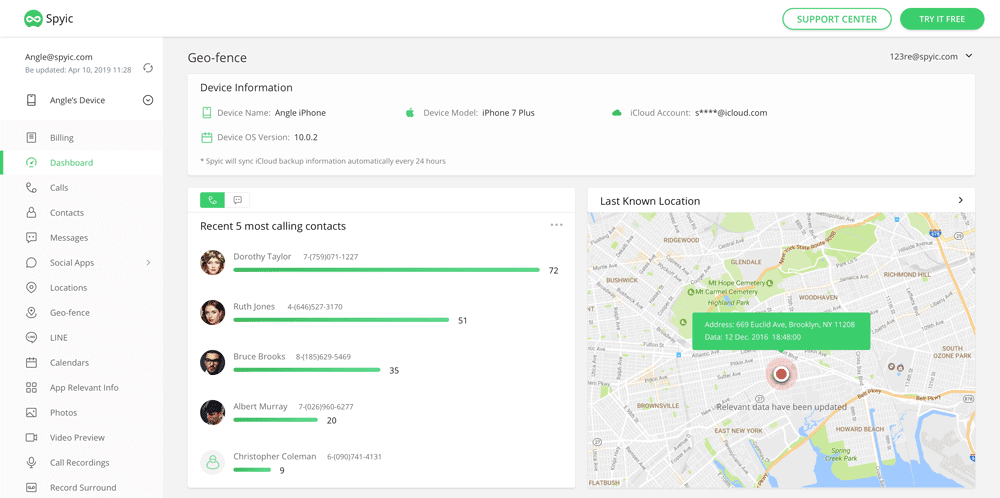 1.2 How to Remotely Hack Someone's Phone Without Having It
Let us now explore how you can hack someone's phone remotely using the Spyic app. Although remotely hacking a phone looks like a very cumbersome process but using Spyic app it is not!
Spyic is one of the easiest apps to use and you'll be delighted with its simple and intuitive user interface. Spyic provides monitoring apps for both the popular OSs. You can see the Android Spyic app here and check out the Spyic iOS solution here.
Follow the following steps to set up the Spyic solution for monitoring the target device.
Step-1: First, make a free account on the Spyic website. It is a very simple and user-friendly process and takes very little time.
Step-2: Now, choose your device type. If the target device is an Android phone, you can download the Spyic app. Allow it all permissions that it needs to work correctly. Remember that with Android phones, it is not possible to hack without installation.
You might have come across apps that claim to work without installation on Android. Be informed that such apps will always be misleading and fraudulent. To date, there is no such technology available.
On an iOS device, however, you can work completely remotely. The amazing thing about the Spyic iOS solution is that no installation or download is needed. Spyic is the best among the monitoring apps and has pioneered this cloud-based technology.
By using this app, you can easily hack the target iOS device remotely in a discreet manner. After signing up for an account you have to verify the target's iCloud account.
Step-3: As you have successfully verified the account, you can now log in to the Control Panel using your account password. You will find that everything is set up now and Spyic has started hacking the target phone.
Nevertheless, the Spyic Android app is very lightweight and only takes up about 2 M of space. It is also easily uninstalled in one click remotely. The app has been designed to run on minimal battery so it can function without draining all phone battery quickly and drawing attention.
You may now proceed to the Control Panel dashboard where you have options to see SMS, WhatsApp, Instagram messages, and Facebook Messages among other functions.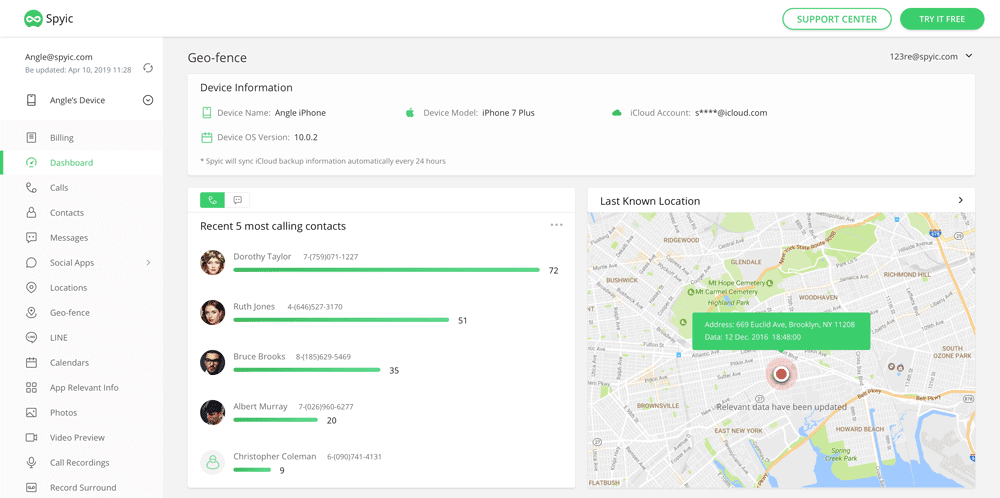 Now you can select whatever app you wish to monitor and everything will be done remotely. From this point onwards, you do not need access to the device.
Hence we have seen that the installation process involves only three simple steps. It is user-friendly too. As you have not touched the target in case of iOS, this process is completely hidden and discreet.
On Android phones, Spyic remains hidden too using its Stealth technology. The app icon is automatically deleted after installation and the app continues to run in the background. This is the key to the power of the app— it operates secretly and is hidden at all times.
If you wish to see the Spyic live demo, click here to see Spyic in action. You can know more about the working of this app by using this demo.
1.3 What Can Spyic Do For You?
Let us also have a look at some of the most unique features of the Spyic app before we learn how you can use it.
Social media monitoring: You can use the Spyic app to monitor Facebook Messages, Snapchat conversations, WhatsApp messages, and Instagram messages. You can access all exchanged messages along with the media files.
Call Tracker: You can hack and access all incoming and outgoing calls remotely. You can also see the details of the caller and the call duration.
Android Keylogger: You will be able to see the usernames and passwords typed by the target. Spyic has an Android keylogger that logs all keypresses made by the target.
Track Location: You can know the GPS location data of the target phone. You can even access at what time the target is present at a particular location with the timestamps. Geo-fencing alerts which arrive when the target moves across boundaries.
SMS Tracking: After tracking the phone using the Spyic app, you can access all sent and received messages along with all the media files exchanged.
Don't Miss: How to hack your girlfriend's phone text messages
1.4 Android Keylogger
There's one more special feature of Spyic which deserves a separate mention. We are talking here about the Android Keylogger. The Spyic Android app has a keylogger built-in. A keylogger is basically a tool that tracks all key presses.
When the user types in anything on his/her phone, the keylogger silently captures everything in the background. The uses of such a tool are obvious. You can log the usernames and passwords of all of the accounts accessed by the user on the phone.
The Keylogger is thus one of the most powerful tools included in the Spyic feature kit. Use it to monitor email or social media accounts or to simply see what the target has been typing!
Also Read: How to hack someone's phone with their phone number
Conclusion
Want to know how to hack someone's phone without having it? It is much easier than you would think. The only thing— you need to get your hands on the right spy app. Spyic is a time-tested and well-known app that is laden with numerous features.
It is extremely easy to use and is very secure too. It is set up in minutes and quickly syncs up all data so you can get tracking right away. All you need for your tracking endeavors is the Spyic app.