Possessive, jealous, dubious or insecure girlfriend – if any one of these is your type, you may want to spy on your boyfriend's phone for one reason or the other.
Are you looking for a way to remotely spy on your boyfriend's phone?
Continue reading to know how you can spy on your boyfriend's phone without touching it. We will discuss the Spyic cell phone monitoring solution in detail. This article covers how you can monitor his iPhone and Android phone.
Part 1: How to Remotely Spy on My Boyfriend's iPhone Without Touching It
1.1 Spyic iPhone Monitoring Solution
Spyic is a premier solution that gets every bit of information from your boyfriend's device that you need. With over 35 features, Spyic lets you secretly spy on every single activity occurring on your man's device.
Spyic provides a web-based monitoring solution for spying on iOS devices. The iOS solution of Spyic utilizes the latest technologies to monitor your boyfriend's Apple devices' activity without having to physically access it.
This means you can remotely monitor your boyfriend's phone by logging to your web-based Control Panel. Neither you need to jailbreak the device nor you need to install any application. If you know your man's iCloud credentials, that's more than enough to set up spy software.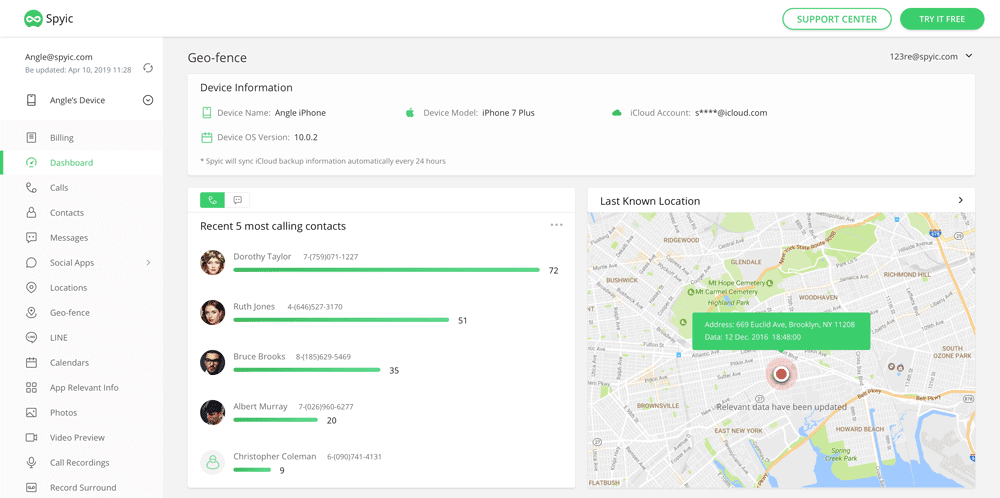 What can I spy on my boyfriend's phone using Spyic?
Take a look at how Spyic helps you remotely spy on your boyfriend's phone:
Read your boyfriend's messages
You can use Spyic to read all text messages and iMessages that are sent and received by your boyfriend. Read the message content, see the contact name and photo, check out the timestamp, and download any attached files.
Don't panic if your boyfriend is smart enough to delete messages. Spyic has already extracted and uploaded them on your dashboard. Interestingly, a deleted message will indicate what your boyfriend is trying to hide from you.
Sneak inside his social accounts
If you doubt him for cheating, it is fair to sneak inside his social accounts and know where you stand in the relationship. Use Spyic to track his WhatsApp and LINE conversations.
As his girlfriend, you have the right to know who he talks to. Check out his complete call history using Spyic. Access the call log and know the call time, call duration, call type, caller name, and photo.
You can also know all details that of a contact that is stored in your boyfriend's iPhone by viewing 'Contacts'.
Track your boyfriend's location
Spyic lets you track the location of your boyfriend with the help of GPS. As the location services are enabled, Spyic captures his location at different instants of time during the day.
You can see his location history and know where he had been throughout the day.
Know as he goes places
You may have discussed a few places or know a  neighborhood, where he should not go. Set up the geofence alerts for such areas and receive an alert immediately if your boyfriend breaks the commitment.
Capture his surroundings
If you think he is lying about his whereabouts and the activities, you can immediately capture his surroundings. Send a remote command to take a picture of the surroundings. You can also use the 'Record Surroundings' option to hear about the ongoing conversations in the vicinity.
Explore his secret interests
You can check the list of installed apps on his device. Additionally, you have access to his complete internet browsing history. Both, installed apps and browsing history, tells you what is inspiring his secret interests.
What's on his mind these days?
Check out his notes, skim through his calendar of events and know what he is up to these days.
You can check Spyic Live Demo here to find out how Spyic can help you spy on boyfriend's iPhone.
Will my boyfriend know I am spying on him?
The fear of being caught is certainly a real concern for anyone who spies on the partner. You, too, don't want to get caught in the act of monitoring his phone.
Spyic understands your position. Spyic assures that your boyfriend CAN NOT suspect of being monitored by you because:
The device is not jailbroken.
There is no Cydia app.
Quality testing is performed on the software to verify the performance of the target device.
The target device has no abrupt behavior.

The applications do not randomly open/close.
The target device does not lag.
The device does not suddenly shut down.

Spyic is not installed on the target device so he can not find it in the list of installed (or hidden) apps.
Cocospy doesn't allow listening to live calls so there is neither noise nor interference in the background.
1.2 How to Spy on My Boyfriend's iPhone Without Touching the Target Phone
Let's take a look at how you can spy on your boyfriend's iPhone without touching the target phone.
Step #1: Register an account with Spyic
Register an account with Spyic and purchase a subscription package.
Enter the email address.
Choose a password.
Hit 'Sign up'!
Step # 2:  Configure your Boyfriend's Device
Got your account and a premium subscription? Good! Now, you are ready to set up the target device for monitoring.
No, you don't even need to access the device. Just enter your boyfriend's Cloud credentials to complete the Cocospy setup. The data of the target phone will be synchronized via iCloud backup and displayed to your dashboard.
Step # 3: Spy on your Boyfriend's iPhone!
Login to your Spyic Control Panel via any web browser.
See the dashboard > select different options.
Happy spy!
Also Read: How to Spy on My Wife's Phone
Part 2: How to Spy on My Boyfriend's Phone Without Him Knowing
Spyic's Android solution empowers you to spy on your boyfriend's phone without him knowing.
You can spy on all the activities of your boyfriend's phone using Spyic. Read his messages, follow the call logs, browse through his contacts and track out his location with Spyic. See the media files of his phone including photos and videos.
Spyic helps you know what happens in the private conversations of your boyfriend and his social circle. You can easily monitor a bunch of social apps including Facebook, WhatsApp, LINE, Snapchat, WeChat, QQ, Instagram, Tinder, Tumblr, Facebook Lite, Messenger, Skype, Kik, Telegram and others. You can also view the list of the installed apps.
The SIM card feature alerts you when the SIM Card is changed. Moreover, the Keylogger feature extracts out his passwords for you.
The setup on Android devices can be completed within 5 minutes. The Android version of Spyic app is compatible with Android devices running 4.0 and above. You can access the full functionality of the Spyic application without 'Rooting' the device.
Your boyfriend would not get suspicious about the presence of a hidden and undetectable spy app. It runs silently on the target device without affecting the performance of the phone. Neither it heats up the battery nor it drains the battery quickly.
How does it work?
The Android solution of Spyic requires you to access the device physically at least once. It will take only a couple of minutes to complete the Spyic setup and installation on the target device.
You can get started by signing up for a Spyic account.
Choose among the available pricing plan and make a feasible purchase.
You will receive a welcome email with installation instructions.
Get hold of the target device to be monitored.
Login to your Spyic account and follow the Setup Wizard.
The app icon hides automatically after installation.
Spyic app service will continue to run in the background.
The data gets synced up to your online Spyic Control Panel.
You can see and monitor the activities of the target device.
Click here to spy on WhatsApp.
Part 3: Why should I choose Spyic?
Are you still looking for a few more reasons to choose Spyic monitoring solution?
Read further!
Spyic is a leading cell phone monitoring solution. It is a reliable app and endorsed by well-reputed media outlets.
It is trusted and used by a million people across the globe, as indicated by an impressive customer satisfaction rate of 96%.
Spyic is a legitimate and secure app. It respects your privacy and does not steal your data.
You don't need to be a tech junkie for using Spyic.
It works discreetly in the stealth mode (Android app version).
It consumes little battery power (Android app version).
It occupies a small memory space (Android app version).
After installation, the app icon disappears automatically(Android app version).
You don't need to jailbreak or customize the target device. Follow the simple setup wizard, enter the credentials and start monitoring (For iPhones).
The app can be remotely uninstalled with just one click from your Spyic Control Panel (Android App version).
As the spyware does not need to be installed on the target device, so there is no chance of inducing any malware or virus.
The user-friendly interface is simple and intuitive. You don't need to read any tutorials to figure out how to check activity on your boyfriend's phone.
Moreover, you can access the complete functionality of Spyic without jailbreaking the device. In this way, your man's device remains protected and the warranty remains valid.
The Spyic iOS solution is compatible with all versions of iOS.
It is certainly the best choice and a balanced solution with affordable prices in terms of features and performance.
If assistance is needed, professional support is available 24/7/365 via email.
This post is also available in: Español (Spanish) Deutsch (German)