Do you think it's impossible to hack WhatsApp messages without access to phone? Nothing is impossible with the Spyic and Cocospy apps! By using this amazing and incredibly powerful app you may hack a private Whatsapp Message from the desired phone chat.
Sometimes the monitoring of Whatsapp chat is required to track the activities of your loved ones or friends. The first reason behind monitoring the messages may be to ensure the online safety reasons of family members and friends.
The second one is to check infidelity in a relationship. Read this article to know more about how to hack someone's Whatsapp without their phone free.
Part 1: How to Hack Someones Whatsapp Without Their Phone Free
Are you wondering how to hack Whatsapp messages without access to phone? This is a very commonly asked question. Smartphones are among the most common electronic gadgets that find their way into the hands of children and elderly persons as well.
Due to its increasing uses, cybercrimes have also suddenly shot up. You can check the phones of your near and dear ones to know what is going on if his/her behavior is different and odd as compared to usual.
You can know a lot about a person by seeing his/her activities and messages on Whatsapp. Now the question arises how to hack someone's WhatsApp without their phone? Is there any possibility?
Of course, yes!  It is surely possible to hack someone's WhatsApp messages with the help of the right tools and apps. Let us check how the unique Spyic app can do the same. Spyic is loaded with many wonderful features. We will take them one by one.
1.1 Spyic app
Spyic is an extraordinary advanced phone-monitoring app by which you can remotely track the important information including call logs, messages, and many more on the target phone. See the Spyic live demo for yourself here.
Spyic is a product introduced by a very trusted and reliable company with millions of satisfied customers globally. This app is not only secure but also very easy to use. Spyic app is available and featured too on a number of big media outlets worldwide.
The amazing fact is that apart from Whatsapp tracking this powerful app also provides you the information about GPS location and social media monitoring.
This includes Snapchat, Instagram, and Facebook messages. All activities are done remotely by using your browser!
There are so many different apps available but most of them require you to first root the phone before using social media monitoring.

However, Spyic does not require you to either root or jailbreak the device. Spyic has both Android and iOS versions available.
While you will need to install the Android app to track Whatsapp, iOS phones need no installation. When tracking an iOS phone use cloud-based Spyic and you do not need to touch the phone at all!
1.2 Features of Spyic App
Let's see the Spyic app's features in greater detail in this section.
Whatsapp Spy: This is one of the most powerful features of Spyic. You can use the Spyic app to track all WhatsApp conversations. You can even see media files exchanged.
Social media monitoring: It is easy to monitor social media messages using Spyic. You can see Instagram direct messages, Facebook messages, and Snapchat messages using the app.
SMS tracking: Apart from Whatsapp monitoring, you can also see SMS messages on the target phone remotely. It is also possible to see the multimedia files that are shared.
So, as you can see, you can use the Spyic app to keep a track of all Whatsapp conversations on the target phone.
You will be able to see all direct chats as well as group messages. All messages can be tracked in real-time using the Spyic app.
1.3 How to Install and Use Spyic to Monitor WhatsApp
Let us now see the detailed process in setting up Spyic system. It is super simple and you won't even realize how seamless it all is!
Step-1: The first step is signing up for a new account on the Spyic website. This is a very simple process and takes only a few seconds at the most.
Step-2: Once you are done registering yourself on the website, you can begin with the installation.
On iOS target devices, there is no need to install anything at all. This is because the Spyic iOS solution is cloud-based. You only need to know the iCloud credentials of the Apple account.
On an Android target device, you will need to first install the Spyic app on the phone. It is a very lightweight app and will only take up less than 2M of space. What's more, the app runs in the background and is uninstalled in one-click remotely.
Give the app all the permissions that it needs to function correctly. You are then done with the installation process. There is no need to have physical access to the Android phone from now on.
Step-3: Now, log on to the Control Panel on your remote desktop or device. You will see your dashboard. Click on 'WhatsApp' and you will see the Whatsapp messages. That's it! You can now track all Whatsapp messages with ease.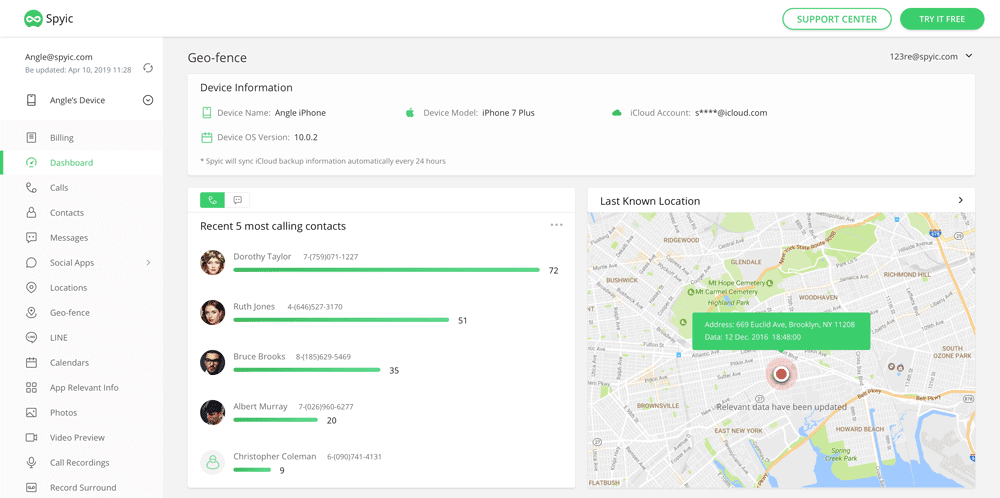 As you have seen, the process is really very simple and you will not face any problems with the installation if you follow all steps properly. To see the app in action, we recommend trying out the live Spyic demo here.
On the link, you can see exactly how Spyic looks like and how easy it is to use it to track Whatsapp messages.
Also Read: How to Hack WhatsApp by Phone Number
Part 2: How to Hack Whatsapp Without Access to Target Phone
Want to know how to hack Whatsapp without access to target phone? Well, you've come to the right place indeed! There are several spy or phone monitoring apps you will find online that claim to help you Track Whatsapp messages.
However, just how successful are these and can you rely on them?
Introducing a very powerful and popular spy app, Cocospy. The app is used by millions around the world and has appeared in numerous big media publications. The app is most known for its superb functions and ease of use.
While most spy apps drain a lot of battery on the target device, Cocospy is different. It is specially designed to use minimal battery. The app works in stealth mode which means it will automatically delete the app icon after installation. The app works discreetly without gathering attention.
2.1 Cocospy App For Whatsapp Monitoring
Cocospy App has such a vast number of features that it is impossible to list them all at once here! It not just allows you to hack Whatsapp messages without access to phone but also maintain detailed logs.
You will be able to see who the target is calling, the call duration, the GPS location of the target, the SMS messages they have been sending, etc. You can even see photos on the Snapchat app after they have been deleted.
One of the most important features of the app is the ability to monitor social media without rooting or jailbreaking the device.
When you use Cocospy to Track Whatsapp messages, you can see all direct and group chats. You can also see information about the contact numbers of the persons the target is in touch with. Further, you can also see photos and videos that are shared.
Click here to visit the official Cocosy website and get your Whatsapp monitoring started immediately!
2.2 Cocospy features
Let us take a sneak peek into the features of the Cocospy App. Cocospy features a great Whatsapp messages spy. Using Cocospy, you can track all of the Whatsapp messages on the target device in real-time. There is no need to root or jailbreak the device.
You will be able to see all incoming and outgoing messages and the timestamps associated with each. Further, you can also see any media files exchanged.
3.3 How to Use Cocospy to Track Whatsapp Messages
Want to know how to hack Whatsapp messages without access to the phone using Cocospy? The process is really simple. Cocospy provides both Android and iOS apps for users.
You can simply register for an account on the Cocospy website. Android devices need the app to be installed first. If the target uses the iOS operating system, the process is even more simple. There is a Cocospy iOS solution as well.
You just need the iCloud credentials of the account. Just get your hands on the username and password: that's it! No need to install anything!
Want to see more WhatsApp hacking tools? Check this post: https://spyic.com/phone-hack/whatsapp-hacking-tool/
Conclusion
Cyberbullying threats are constantly on the rise. Many people want to know how to hack Whatsapp messages without access to phone. Parents might want to keep a check on their kid's activities.
We recommend using Spyic or Cocospy which are both extremely powerful apps. By evaluating the Whatsapp message content, you can encourage your target to take the correct decisions to stop the bad intentions of the cyberbullies and others.
References:
This post is also available in: Português (Portuguese (Brazil)) Español (Spanish) Deutsch (German)