Someone close to you is keeping secrets. You think their phone will provide you with the clues you need to find out exactly what. You're tempted to hack into their phone to find out, but you can't get your hands on the device.
Is there a way to spy on a phone without physical access to the phone itself? The answer is yes, there is a way! It can be a trifle tricky to pull off, but it's doable. Note that it's easier to spy on target iOS devices without physical possession than Android.
Currently, if you want to spy on an Android device, you need to physically install a hidden spy app on it. There are no known workarounds. Clearly, getting someone to install an unknown app on their phone is hard to do, but it's possible.
In this article, we give you two simple ways to spy on someone's phone without possessing it physically. We also give you suggestions on how you might be able to install a spy app on a target Android device remotely:
Part 1: How to Spy on Phones without the Phones you're trying to Spy On
There are several hidden spy apps on the market designed to capture and share what's happening on a target iOS or Android device. However, most of them require you to root or jailbreak the target phone, which means you need to get your hands on said device.
If you're reading this article, you're looking for a method to spy on a phone without having it in your hands. That means you need an app that can be installed remotely. It also needs to be discreet and powerful.
Spyic – a top-rated, highly trusted iOS and Android spy app – is exactly what you're looking for!
1.1 About Spyic
Spyic is a remote monitoring and parental control app. After you set it up to work with a target device, you can remotely view what's happening on the target device. The app is compatible with both iOS and Android OS and works 100% discreetly.
The app is used by over a million people in 190+ countries, so it's highly trusted.  It's also legal if you're wondering. The user base comprises of parents, employers, and other people who want to keep an eye on someone close to them.
Why do people want to spy on people they know? Parents do it to look out for their kids. Employers do it to protect their business. The reasons vary. Whatever yours is, Spyic is the only hidden spy app you'll ever need.
Also Read: Top 10 Free Cheating Spouse App for Android
1.2 How to Set Up Spyic
Spyic can be set up for iOS remotely. It's 100% web-based. You won't have to worry about jailbreaking the iPhone or iPad. You just need the target device's iCloud credentials. For Android phones, you need brief physical access to the phone.
Here are the steps to follow to set up Spyic on the target iOS device:
Sign up for a Spyic account. Use an existing email ID for the user name.
2. Purchase a Spyic subscription. You can choose between Basic, Premium, and Family, depending on the number of devices you want to monitor.
3. Follow the setup instructions provided in the Welcome email.
4. Wait for Spyic to sync up with the target iCloud account or Android device. The dashboard will load up.
5. The Spyic dashboard gives you complete access to the target phone. You can see a list of supported features to the left.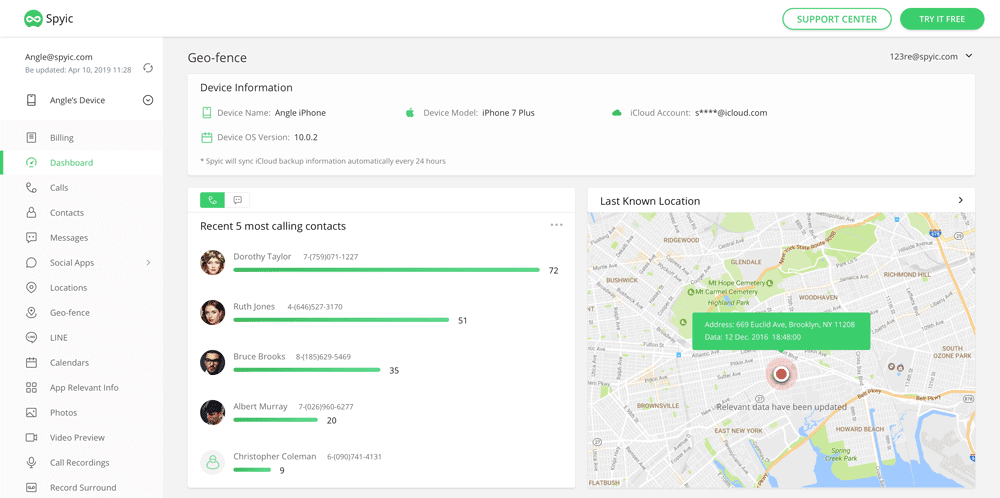 Besides, we provide a video to show how to install Spyic on Android phone:
1.3 Why Spyic Stands Out from the Crowd
Spyic is a powerful, discreet phone monitoring app. Here is why Spyic surpasses the competition:
Works without jailbreak or rooting
Spyic is rare in that it allows you to access social media apps, call logs, messages, media files, and more without requiring you to root or jailbreak the target device. Most of the spy apps out there don't work without jailbreak or root.
Lightning-quick installation
For both iOS and Android, Spyic can be set up within minutes. You just need to sign up for a Spyic account, follow the install prompts, and start monitoring. For target iOS devices, Spyic can be set up remotely.
Can't be detected
The target will never know you're monitoring them. Spyic for iOS can't be detected, since it's fully web-based, without any software being involved. The Android version of Spyic is very stealthy. It works hidden in the background.
No technical knowledge neededYou don't need to be technically gifted to use Spyic. The installation process is very simple. Once installed, you can control Spyic remotely from an intuitive, easy-to-use control panel. Everything is clearly laid out.  
Trustworthy
Spyic is used by over a million people from all over the world, so it's highly trusted. With other spy apps, your data might be compromised. You don't have to worry about that if you use Spyic, however. It's completely legit.
Feature-richThe app gives you in-depth access to the target device. Here's all the activity you can track:
Calls: Take a look at detailed call logs, including contact names, timestamps, and call durations.
Contacts: See who the target is in touch with via text messages, phone calls, and social media. Also, access to the address book.
Messages: Read all the text messages and iMessages exchanged by the target.
Locations: See a summary of all the locations a target has visited recently. Get details like addresses, geographical coordinates, and timestamps.
Browser History: The browser history feature shows you a list of all the websites a target has visited recently. If you're a parent, you can stop your kids from accessing inappropriate sites.
Media Files: See all the pictures or images stored on the target device, including the ones download on social media.
Social Apps: View social media activity. Spyic for iOS allows you to access WhatsApp and LINE without jailbreaking.
Calendar: See all planned calendar events and upcoming important dates.
Applications: View a list of all installed applications and accompanying timestamps.
SIM Card: Get information about the target's SIM card, including their carrier network. Be notified if their number changes.
Keylogger: Remotely capture every keystroke typed on the target device.
Check out the Spyic live demo here!
Part 2: An Alternative Way to Spy Phones without the Phone You Spying On
How else can you remotely spy on a phone? You can use Cocospy for iOS and Android. Cocospy is a well-known hidden spy app. Like Spyic, it can remotely monitor an iOS device. You just need the target device's iOS credentials.
Why Cocospy?
It's 100% discreet: Cocospy is a super-stealthy app. The Android version works in the background. It uses a minute amount of system resources, making it virtually undetectable. The iOS version is fully web-based.
Works without root or jailbreak: You can set up Cocospy on the target device without having to jailbreak or root it. You don't have to worry about voiding the device warranty or making the owner suspicious.
Set up in minutes: You'll be able to set up Cocospy in a short span of time. You just need to sign up for a Cocospy account, purchase a subscription, and follow the installation prompts.
Full access: The app gives you full access to the target device. You can see call logs, contacts, messages, locations, social apps, and more.
Highly trusted: Cocospy is used by millions of parents, employers, and other regular people from all over the world. It has been around for a long time and is highly reputable.
Don't Miss: 5 Free Spy Apps for Android Without Target Phone
Part 3: How to Spy on an Android Phone without Having it in Your Hands
As mentioned earlier, if you want to spy on an Android phone, you need to install a spy onto it. Of course, that means you either have to physically access the phone to install the app or you can trick the owner into installing it for you.
So how do you trick the owner? It's hard. You could send them an email with a link to a spy app. Or you could send them a text with a link to the spy app. There are other methods. All the methods, though, are unreliable.
If you can get brief physical access to the target phone, you can have Spyic or Cocospy set up within minutes. Afterward, you can hide the app. It won't appear in the installed apps list. The user will never find out.
Also Read: How to Spy on Someone's Phone Without Touching It
To sum it up, you can spy on phones without possessing them physically with an app like Spyic. You can have Spyic up and running in a matter of minutes. The app is impossible to detect, so you can use it worry-free!
This post is also available in: Español (Spanish) Deutsch (German)