To Intercept text messages without target phone for free might seem like an excessive and unneeded measure. However, in some cases, it is the need of the hour.
You might be suspicious about your partner who is spending too much time texting on the phone lately? Or perhaps you want to know what kind of child your kid is interacting with?
In either case, it becomes important to know for sure what is behind that locked screen. At times, you have to take extra measures to ensure the relationship (and in some cases, the other person) is safe.
And the safest measure that would do no harm to the relationship and would give you all the information is – Tracking their messages.
If you spy the text messages of your partner or child, you will know who they are talking with and what they are talking about.
However, it is important to use a method that is safe, secure, and most importantly, works quietly without them knowing.
This is why I have done hours of research on the subject. I tried all the apps that 'claimed' to offer what I really wanted.
Only ONE app was as good as I wanted. Actually, that might be an understatement. This method was so good I couldn't believe all that I had in front of my eyes.
Here it goes…
Part 1: How to Intercept Text Messages Without Target Phone
Before I give you the steps on how to intercept text messages without accessing the target phone even once, let us discuss its possibility.
Is it possible to intercept text messages without target phone?
This is the question that is in your mind right now. So is that really possible? In one word, Yes. It is very possible.
However, intercepting text messages without the target phone works ONLY if the target phone runs iOS.
For Android phones, you definitely need to access the phone at least once in order to intercept its messages. In the case of Android, it is important to install a spy app on the target phone to monitor it.
Therefore, I will limit this section to how to intercept text messages for iOS, since it involves doing it without the target phone. If you want to monitor messages of an Android phone, you will find the steps in the next section.
My favorite thing is that Spyic runs without requiring rooting of the Android phone or jailbreak of the iPhone.
**Beware of any apps or websites that claim to monitor Android's messages without any app installation or without requiring phone access. These tools are fake, scam, or fraudulent. They intend you to take their surveys and download their virus-infected software.**
1.1 Spyic for iOS: Intercept Text Messages from Another Phone Without Installing Software
Spyic is a phone monitoring software that can intercept the messages of your partner's or kid's iPhone. Not only that, it is the least of what it is capable of.
With Spyic's feature-loaded dashboard, you can control the entire phone of the target person from your web browser.
Not only can you intercept their messages, but you can also view their calls, pictures, social media, and so much more
What Can You Do Besides Intercepting Messages
Here is some of what Spyic can do:
Call Monitoring:
Spyic has a Call monitoring feature which gives you complete insight in the call history of the user. You can detailed information like caller identity, call duration, call time, etc.
You can even intercept and record the phones if you feel like. This feature gives you even more power than monitoring messages.
Social Media Monitoring:
If you really want to know what someone is messaging, you shouldn't just limit yourself to their SMS or iMessage. Social media platforms are most commonly used for texting nowadays.
Therefore, if you are thinking of intercepting someone's messages, do check their social media chats as well. Spyic has inbuilt modules for each social media platform.
Application Monitor:
This feature gives you a list of all the apps that are installed on the target iPhone. You can even restrict the user's access to any of the app or limit the number of hours they use it for.
Location Monitor:
Location monitor gives you live location updates of the target device. It also gives you the recent locations along with the timestamps. You will know all about the whereabouts of the person through this feature.
This is not even a fraction of all that Spyic has. To get more idea about its features and what all you can do, try its free demo here.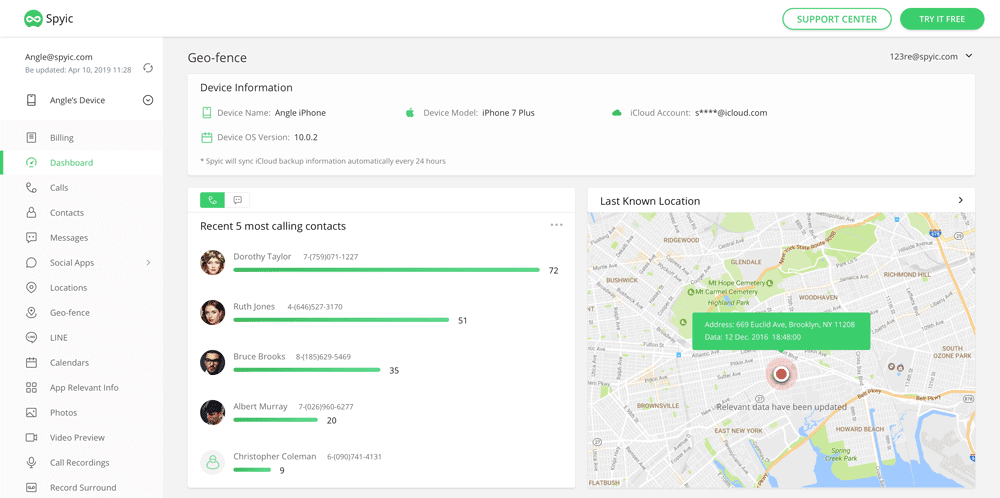 1.2 How to Intercept Text Messages from Another Phone Without Installing Software
You don't need to access the target phone at all to use Spyic for iOS. All you need is the iCloud username and password of the device. Here are the steps:
Sign up for Spyic. Choose the target device type (iOS in your case).
Get a Spyic subscription plan. Spyic has different plans based upon the features you want and the number of devices you want to monitor.
Enter the basic credentials of the target user like name, age, and OS.
Submit the iCloud credentials of the target device.
Choose the device name from the list of devices associated with the iCloud account. You will be shown backup data of this particular device.
Hit 'Start'. You are ready to intercept messages now.
Message Monitor
Message monitor is a dedicated module that is accessible through the Spyic Dashboard. It shows you all the messages that are sent or received by the device.
Not only that, but it will also show you the messages even if they are deleted by the user. The messages can be seen along with the timestamps.
iMessage Monitor
This feature is intended for the convenience of iOS users. Since iOS users mostly text through iMessage, you can view these chats from here.
Now let us move at the Android part of the guide.
Also Read: How to Spy on Text Messages Without Installing Software
Part 2: How to Intercept Text Messages
Intercepting text messages on Android is very easy and secure with Spyic. To accomplish this, you need to download the Spyic application on the target phone.
However, that is no big deal. The Spyic application is designed to run in 'Stealth Mode'.The app size is less than 2 MB and it installs within seconds.
Not only that but once the text message interceptor is installed, the app icon will vanish from the list. Only you can evoke it by dialing a secret code.
Further, it drains no battery at all. And when you wish to uninstall it, you can do it through the Spyic dashboard remotely with a single click. Cool, right?
Therefore, even though app installation is needed in Android, the target user will never find out that their messages are being intercepted.
Intercepting text messages on Android
Intercepting text messages on Android through Spyic can be done through the message monitor, as mentioned in the previous section. However, there is another awesome way to do it – Android Keylogger
Android Keylogger
Android keylogger records all the keystrokes that are made on the target device by the user. This includes his chats, social media searches, Google searches, and everything else.
You can use the Android keylogger to check all the messages that the user has typed. The key logs are organized by applications.
Therefore, you can choose the messaging applications one by one and see all that the user has typed.
Can't Miss: Top 10 Best Text Message Spy Apps
Why Choose Spyic?
You might be wondering how come I speak so highly of Spyic. Why should you choose Spyic without a second thought?
This is because Spyic is the #1 app enjoyed by millions of users worldwide. And all these users use Spyic because of what it offers.
Some of its benefits are:
No Root or Jailbreak required
You don't need to root or jailbreak the target phone to use Spyic. This is due to the cutting edge technology of Spyic.
View Deleted Messages
When you are intercepting messages through any other means, you might miss some if the user has deleted them. These deleted messages are the most important ones.
With Spyic, you have the power to view even the messages that are deleted by the user from his phone.
Stealth Mode
Spyic for iOS requires no app installation or accessing the phone at all. Therefore, there is no chance that the user will find out that they are being monitored.
In the case of Spyic for Android, I already told you about how this app always runs in stealth mode. Therefore, even in that case, the target user will never be suspicious.
Cheap Price
Spyic's prices are so cheap that when I first heard about Spyic, I brought its plans even without knowing anything about it at all. However, as you can see, I consider myself lucky now to have got Spyic.
Final Tip For Safe Message Interception
When you are intercepting someone's message, you always have to take precautions that you never get caught. This can lead to staining of relationships and other repercussions.
Therefore, that's why it is a good idea to only use Spyic and not any other subpar app. Spyic is designed for this purpose and it fulfils the promise extremely well.
Get Spyic now to get started immediately.
This post is also available in: Deutsch (German)