Want to know how to spy on someone's phone without them knowing? In the extremely fast lifestyle of today, mobile phones are very important gadgets carried by everyone.
One can not only do a number of versatile activities through this smartphone but also save their own personal data. This includes media files, chat history, messages, and social media. Therefore, if you want to spy on the activities of someone, you can use a spy app.
The best apps for this purpose are Spyic and Cocospy. Spyic is a very powerful and secure mobile spy app through which you can spy on anyone's phone without them knowing. You not only get the activities and location of the target in real-time but also the target's vital information.
This is done by monitoring the target's social media accounts and message lists. Continue to read more about these apps!
Part 1: How to Spy on Someone's Phone Without Them Knowing
Do you think it is impossible to spy on a cell phone without them knowing? Think again! It is very much possible! It actually all comes down to the operating system of the target phone.
Revolutionary apps like Spyic support both Android and iOS. Using cutting-edge technology, Spyic makes it possible to actually spy on an iPhone without physically accessing the device at all! This is all because of the cloud-based solution offered by Spyic.
Spyic is a trusted and reliable name globally. The app has been featured worldwide in big media outlets as it is completely safe and secure.
Rooting or jailbreaking the target device is not needed. This is a common problem with many spy apps. However, Spyic provides all features without rooting or jailbreaking!
If you want to spy on an Android device, you have to install the Spyic software on the phone. For this, you will need physical access to that Android phone.
It is to be noted that no software is developed yet using which you can remotely access or spy on any Android phone. Hence, be aware of such false claims by other software companies!
Spyic gives real-time insights into the location, messages, and social media apps. Not only the location but continuous tracking of the route of the target 24×7 is possible.
You can use an advanced feature called "geofencing" that creates a boundary or fencing for the phone. Whenever the target phone goes out of this boundary you will get an alert/ alarm.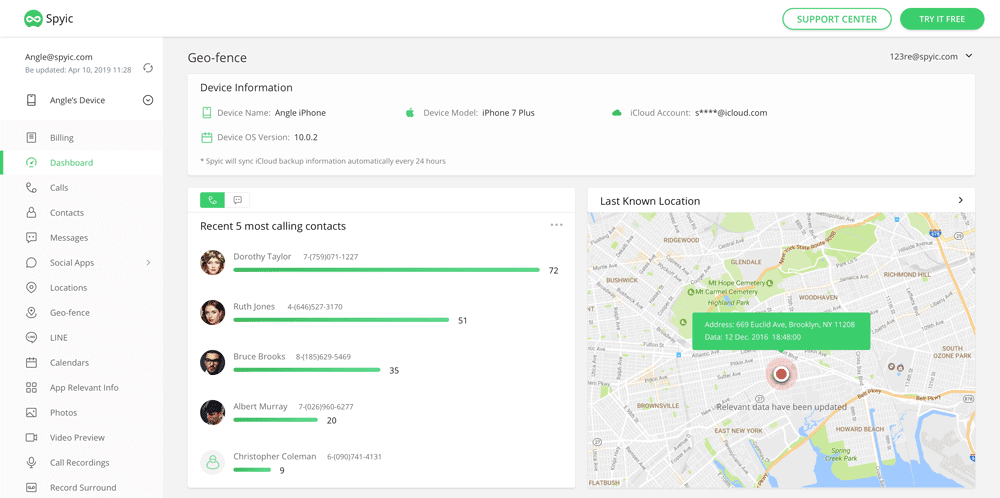 1.1 Why Spyic App Is Different From Other Spy Apps
Remotely spying on the activities of someone through their phone is a big innovation of this century. This activity can be performed with the help of a powerful tool named Spyic. Sign up to get Spyic now and see the difference!
Most of the spy apps available in the market today have several problems. They are often very complex to use and require rooting or jailbreaking the target first. Then, they are easily detected by the target and will drain the battery completely. Use the Spyic app and stay relaxed forever!
Spyic is very lightweight and does not take much space on the target phone. What's more, it does not consume a lot of battery at all. It will keep running in the background quietly and will be undetected, thanks to the stealth technology.
Both iOS and Android Spyic apps are available for use. Only the iOS solution allows remote working without having to access the iPhone at all. This is another unique feature.
Most spy apps require rooting or jailbreaking for social media monitoring. Spyic supports social media monitoring too without rooting or jailbreaking!
To see how Spyic is a unique app, check out the Spyic live demo for yourself here.
1.2 What Spyic Can Do For You?
By using the features of the Spyic solution, you can spy on the following data of the target phone:
Contact directory: You can track and spy on all the contacts whom the target is contacting.
Browser history: All the websites searched or accessed by that person on his/her phone could be tracked using the Spyic app.
Call history: You can spy on both the incoming and outgoing calls with complete details about the caller using Spyic.
Notes: You can spy on the notes saved on the iOS device. By using this feature you can track or spy on the personal notes of the target.
Deleted and Present Text messages and iMessages: You can spy on or read all text messages, iMessages, and media files including the deleted ones using Spyic.
Social media monitoring: You can monitor and spy remotely to see Facebook messages on the target phone. By using this app you will also be able to spy on the Snapchat conversations, Instagram messages, and WhatsApp.
Location: Using Spyic you can spy on the time-stamped location of the target device.
1.3 How to Use Spyic to Remotely Spy on Someone's Phone
Wish to know how to spy on someone's phone without them knowing? Spyic is designed for both Android and iOS apps. Now let us discuss how someone's phone can be remotely tracked or spied on by using the Spyic solution.
Be informed that while using the Spyic app, you do not need to install anything on the target phone and jailbreak the target device too if it runs iOS.
All you need is access to the iCloud login ID and password of the device. With Android, you need to install the Spyic Android app.
Follow the following steps to spy on a phone without someone knowing.
Step 1: Visit the official Spyic website and make a Spyic account. This is very easy and you'll find that the registration process is user-friendly.
Step 2: Now select the device type. At this stage, if your device runs iOS, you can enter its iCloud credentials. The physical presence of the target iPhone is not required. It may take some time for the app to sync.
However, if the target is an Android device, you will need to install the Android Spyic app. Give the app all the permissions it needs and it will be up and running.
The Spyic Android app is very user-friendly and is quickly installed on the phone by consuming less than 2M of space. You can remotely uninstall it easily with one click.
Most of the spy monitoring apps require rooting the Android phone. This makes the process complicated and time-consuming. When you use Spyic app rooting the target device is not required at all!
Step 3: Using your control panel, login to your account. You will find your dashboard.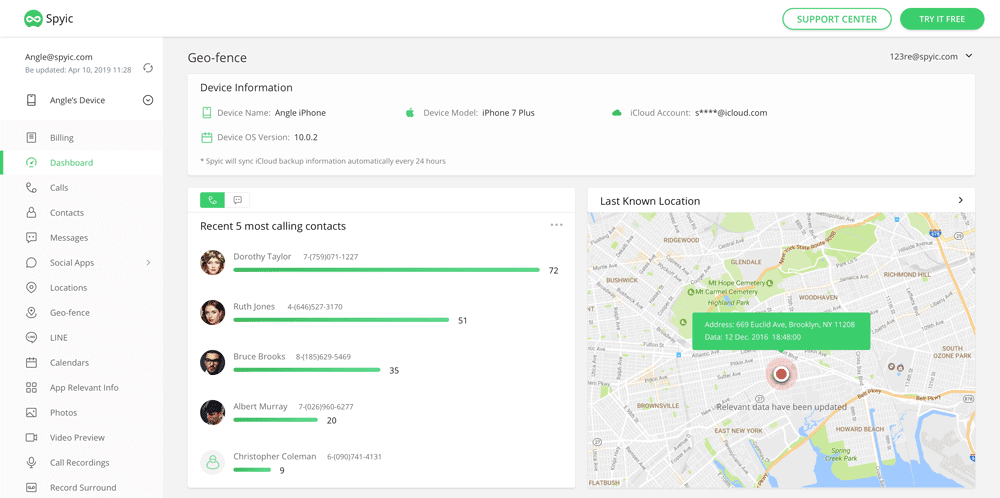 You are now ready to spy on the phone. The app allows you to track and spy on all details like call details, installed apps, text details, chat details, and media on the dashboard of your control panel. You will see separate sections on the dashboard. Click on the one that you wish to see.
For a better understanding of the Spyic app, we highly recommend that you check out the Spyic live demo here.
1.4 Android Keylogger Feature
The Spyic Android solution is loaded with some other unique features like the Android keylogger that logs every keypress. The keylogger is an extraordinary tool that allows you to hack the passwords and usernames of all accounts.
By using this feature, you can access or spy on any account easily. When you log on into the Control Panel you will find the 'Keylogger' section.
1.5 Spyic Stealth Mode
How to spy on someone without them knowing? It is really a matter of worry if the target user catches you red-handed! If you are using the Spyic app then you are free from such worries as this app works in stealth mode.
This means that its icon automatically deleted after installation and then it works secretly in the background. A great plus point with the Spyic app is its unique design which consumes minimal battery on the target phone.
Also Read: 5 Free Spy Apps for Android Without Target Phone
Part 2: How to Spy on Someone Without Them Knowing
There are many ways to spy on someone's phone without them knowing by using certain tools and apps. A great tool for this purpose is the Cocospy app which is not only powerful and secure but among the most popular and reputed companies in this field.
Millions of people use this app to spy on their target phone in more than 190 nations globally. You can trust this lightweight app and due to this reason, many popular media houses and outlets have been regularly featuring this app.
Cocospy is a very user-friendly app that does not need you to jailbreak or root the target phone. It is very safe and light. It just requires about 2 MB of space on the phone if it runs Android (check Cocospy Android solution). Better still, if it is an iOS device, there is a Cocospy iOS version too, and you don't need to install anything— all activities are cloud-based!
By using Cocospy app you can access all social media accounts including the email. The keylogger feature found in built into Cocospy will help you as well. You can get all the passwords and usernames to log in into the target accounts.
Let's discuss some more wonderful features of this powerful app. You can also see Cocospy in action here by looking at its live demo.
2.2 Features of Cocospy
Want spy gadgets for cell phones? You can use the Cocospy app in a variety of ways.
Call tracker: Using Cocospy, we can spy on or track incoming and outgoing calls on the target phone without them knowing. We can also check other parameters like call duration.
SMS tracker: For spying on someone's SMS, you can use Cocospy too. You can find both sent and received messages along with all media files exchanged.
Social Media Monitoring: Using Cocopsy you can see all social media activities including Facebook messages, WhatsApp chats, Snapchat media, and Instagram messages as well. The best thing is that there is no need to root or jailbreak!
Location tracker: This app will send you the real-time location of your target along with the timestamps.
Track Discreetly With Stealth Mode: Using its stealth technology you can secretly spy on the target phone without someone knowing. Be assured that after the installation of this app, the app icon will be deleted automatically.
Cocospy Android Keylogger: Android keylogger is a great feature of the Cocospy app which tracks all taps. The Cocospy keylogger can capture the passwords and usernames of all accounts.By using this powerful tool you can hack and spy on any account easily. You can find the 'Keylogger' section when you log into the Control Panel on the Cocospy app.
Can't Miss: How to Spy on a Cell Phone Without Having It
Conclusion
How to spy on someone's phone without them knowing? This is one of the most common queries. If you wish to spy on someone, Spyic and Cocospy are among the most powerful apps.
They are available for both iOS and Android target phones. You need no installation on an iOS device and even no physical access to the phone at all!
There is no need for jailbreaking or rooting the phone devices. Spyic and Cocospy are very user-friendly, secure, safe, reliable, and affordable. These are trusted apps globally.
This post is also available in: Deutsch (German)